← Pèlerinage Fantastique (Fantastic Pilgrimage)
Dialogues Fragiles (Fragile Dialogues) →
Music Theatre 2 – performance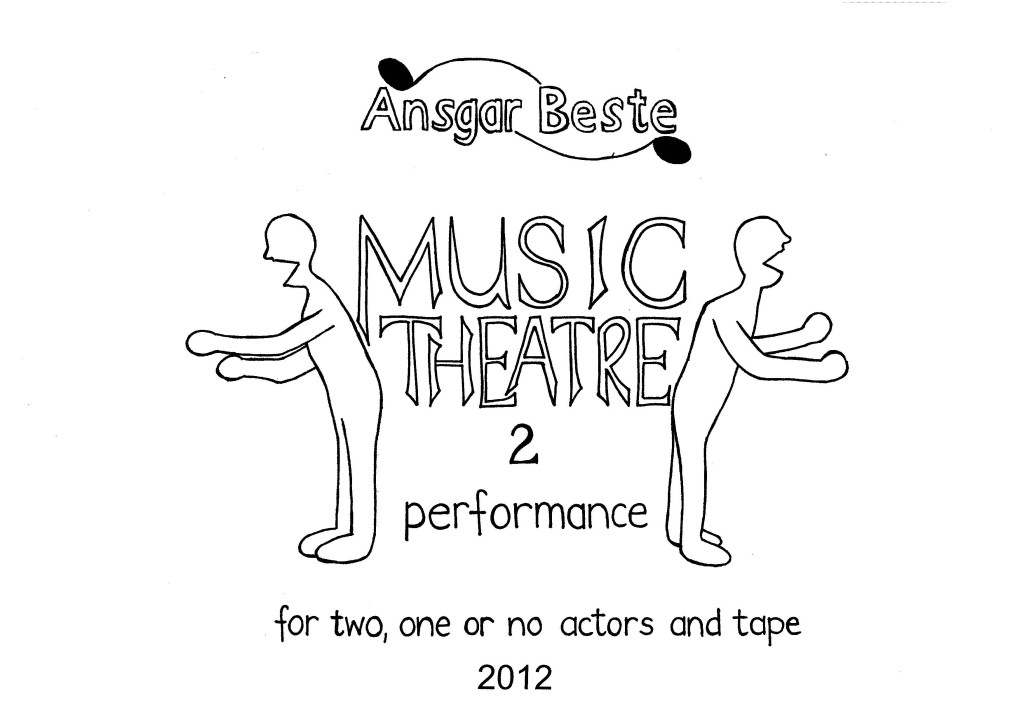 | | |
| --- | --- |
| Setting | Two, one or no actors and tape. |
| Period of creation | 2011-12-14 to 2012-04-07 (score: 2012-05-13 to 23). |
| Duration | 10 min 10 sec. |
| Commission / occasion | Commissioned by the conference compositioNetwork 2012 in Malmö (Swe). |
The main idea behind the piece is a confrontation of two different, psychologically suffering characters who are reflecting their unfulfilled desire for love between the poles of retro­spec­tion and projection: on the one hand, a middle-aged man coming out as a rapist, and on the other hand, a younger woman being a victim of several violations. It remains unclear if the characters are soliloquizing or interacting.
Both characters articulate 13 various sentences in a similar emotional development, be­gin­ning with the longing for love, leading to a "screamed" climax (at the golden section) and end­­ing in the ambiguous redemption of self-destruction and death.
In the overall form a longer dialogue part is enframed with a monologue part by the woman in the beginning and another monologue part by the man in the end to underline the vagueness between soliloquizing and interaction.
The dialogue part is divided into four sections, of which the first two increase in tension and lead to the climax at the beginning of the third section, until the last two sections decrease in tension again. The enframing monologues further support this development.
In their monologues both characters use each of their 13 sentences only once, which can be interpreted as an exposition of the woman's inner world in the beginning or respectively as a recapitulation in the case of the man in the end. In contrast, in the dialogue part, the sen­tenc­es are formally assembled through a calculated pattern of repetitions in order to create a rit­u­a­lis­tic and at the same time hopeless atmosphere. Formally speaking, the inner lives of the two characters "develop" during the dialogue.
For the tape part all material was derived from the recording of the libretto, whereas the treat­ments of repetition, time stretch, transposition and reverse are mainly used. Creating a coun­ter­point of inner voices with changing density and complexity, the tape part also serves as a musical ostinato to establish the formal disposition of suspension and release. The effect of this ostinato is strengthened by a second layer consisting of slowly sliding, pitched or un­pitched pedal points.
The sections before the climax are focussing on inner voices by the woman, whereas the sections after the climax are treating material of the man preparing the listener for his final monologue.
After all, the libretto is ought to be performed by two actors, but it is also possible to have it performed by one solo actor hearing the other part (from the tape) as an additional inner voice. Finally, the piece may also work as purely electronic music.
2012-10-21
Tape version (Agnes Wästfelt and Josep Cusó, voice)
Mu­­sic and Art Around festival in Copenhagen (Den)
2012-05-31
Ulrika Ellemark and Iggy Malm­borg
Malmö Academy of Music (Swe)
2012-05-29
Tape version (Agnes Wästfelt and Josep Cusó, voice)
Nya Tröls / C-Y (ContemporarY) in Malmö (Swe)
2012-04-17
Ulrika Ellemark and Iggy Malm­borg
Malmö Con­cert Hall / Skandiasalen (Swe) – world premiere
| | |
| --- | --- |
| 4,79% | Selection for the Tremplin Commission Program of IRCAM and Ensemble inter­con­tem­po­rain (Fra), 8/167 (2011-12). |
| 17,5% | Selection for the Off-Concert at the Donaueschingen Fes­ti­val 2012 (Ger), 7/40 (2012-06). |
| 20% | Finalist at the International Ensemble Modern Academy / IEMA (Ger), 6/50 (2012-03). |