"Specialist for unheard-of and outrageous sounds"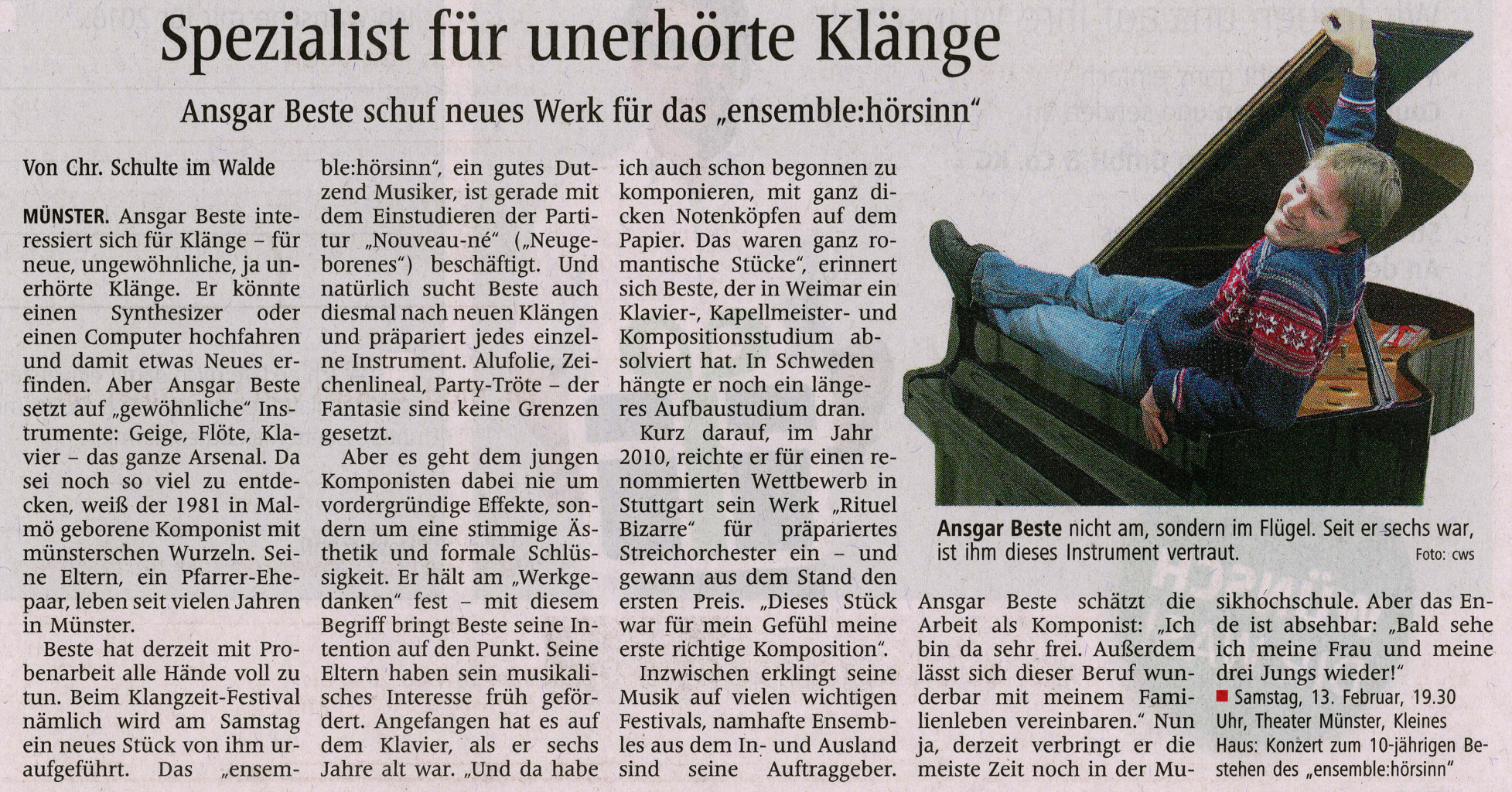 "Ansgar Beste is interested in sounds – in new, unusual, well, unheard-of and outrageous sounds. He could start a synthesizer or a computer and invent something new with them. But Ansgar Beste puts his faith in 'ordinary' instruments: violin, flute, piano – the entire arsenal. 'There is still so much to discover' […].
However, the young composer's concern is never about superficial effects, but about consistent aesthetics and formal coherence. He adheres to the 'idea of the work (of art)' […].
Ansgar Beste appreciates the profession as a composer: 'There I am very free. Furthermore, this vocation can be wonderfully reconciled with my family life.'"
(Translation by Ansgar Beste)
"Spezialist für unerhörte Klänge
[…] Ansgar Beste interessiert sich für Klänge – für neue, ungewöhnliche, ja unerhörte Klänge. Er könnte einen Synthesizer oder einen Computer hochfahren und damit etwas Neues erfinden. Aber Ansgar Beste setzt auf 'gewöhnliche' Instrumente: Geige, Flöte, Klavier – das ganze Arsenal. Da sei noch so viel zu entdecken […].
Aber es geht dem jungen Komponisten dabei nie um vordergründige Effekte, sondern um eine stimmige Ästhetik und formale Schlüssigkeit. Er hält am 'Werkgedanken' fest […].
Ansgar Beste schätzt die Arbeit als Komponist: 'Ich bin da sehr frei. Außerdem lässt sich dieser Beruf wunderbar mit meinem Familienleben vereinbaren.'"
Read full article online.