"The sound worker"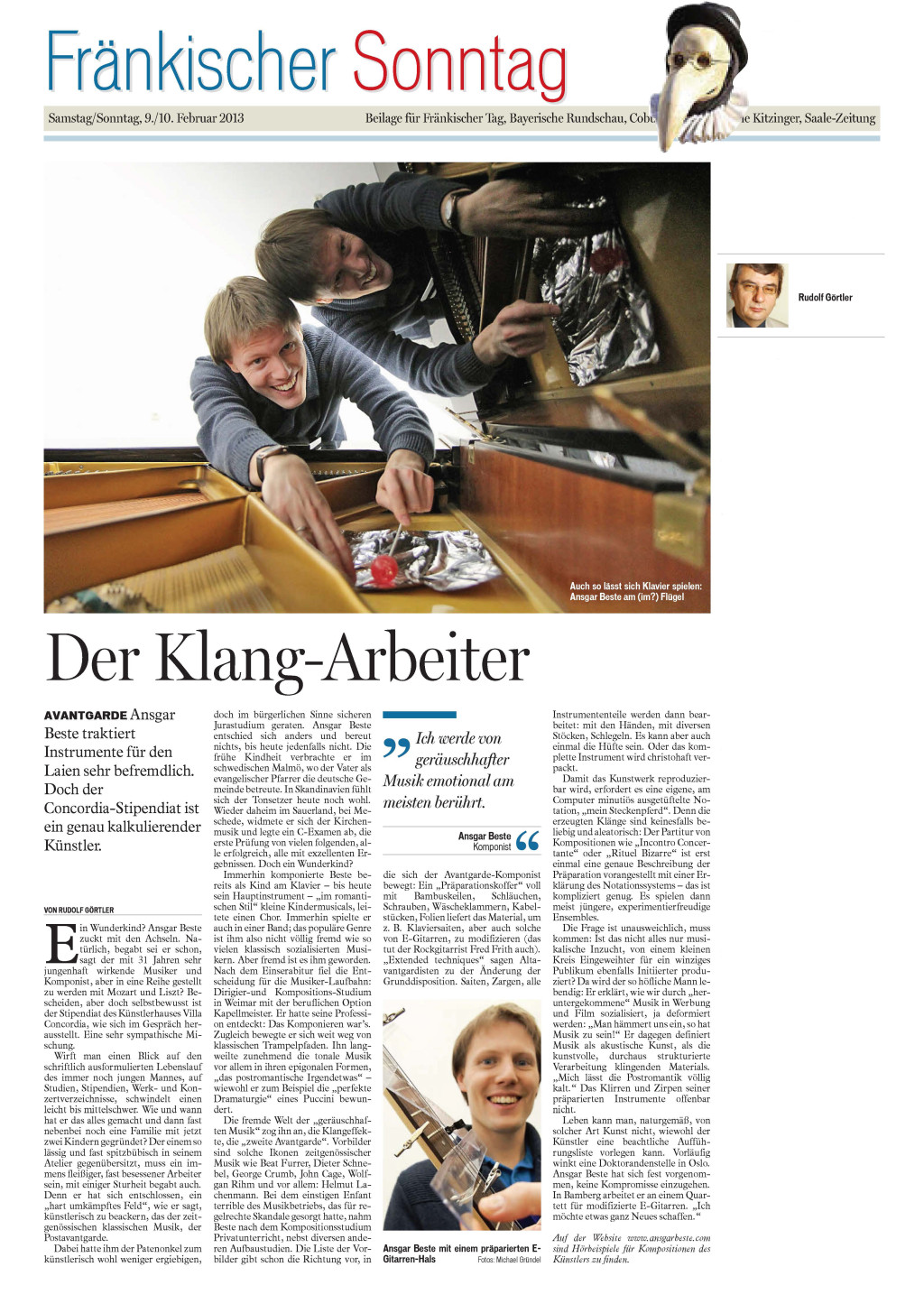 "For the amateur, Ansgar Beste treats the instruments in a strange manner. But the Concordia scholarship holder is a precisely calculating artist. […] In the interview, the fellow of the artists' residence Villa Concordia turns out to be modest, yet self-confident. A very pleasant mixture. Taking a look at the written résumé of the still young man, at studies, at scholarships, at the list of works and at the list of performances, one feels slightly to moderately dizzy. How and when did he manage all this and then, almost en passant, start a family with now two kids? The one who sits opposite you in his studio in a casual and almost roguish manner, must be an immensely hard, almost obsessive worker, gifted with some stubbornness, too. […]
[In his composition studies] he moved far away from classical beaten tracks. Tonal music increasingly bored him, especially in their epigonic forms, 'the post-romantic something' […]. The strange world of 'noise-music' attracted him, the sound effects, the 'second avant-garde'. […]
He explains how we are socialized, or even deformed, by 'degenerate' music in advertising and film: 'It is hammered into our heads that music has to be like that!' He, on the contrary, defines music as acoustic art, as the artful, by all means well-structured treatment of sounding material. 'Post-romanticism leaves me completely cold.' […] Ansgar Beste is firmly resolved not to make any compromises.
In order to make the work of art reproducible, a particular notation is needed which is meticulously elaborated at the computer, 'my hobby horse'. For the sounds produced are by no means arbitrary and aleatoric: Every score […] starts with a detailed description of the preparation including an explanation of the notation system."
(Translation by Ansgar Beste)
"Der Klang-Arbeiter
[…] Ansgar Beste traktiert Instrumente für den Laien sehr befremdlich. Doch der Concordia-Stipendiat ist ein genau kalkulierender Künstler. […] Bescheiden, aber doch selbstbewusst ist der Stipendiat des Künstlerhauses Villa Concordia, wie sich im Gespräch herausstellt. Eine sehr sympathische Mischung.
Wirft man einen Blick auf den schriftlich ausformulierten Lebenslauf des immer noch jungen Mannes, auf Studien, Stipendien, Werk- und Konzertverzeichnisse, schwindelt einen leicht bis mittelschwer. Wie und wann hat er das alles gemacht und dann fast nebenbei noch eine Familie mit jetzt zwei Kindern gegründet? Der einem so lässig und fast spitzbübisch in seinem Atelier gegenübersitzt, muss ein immens fleißiger, fast besessener Arbeiter sein, mit einiger Sturheit begabt auch. […]
[Im Kompositions-Studium] bewegte er sich weit weg von klassischen Trampelpfaden. Ihn langweilte zunehmend die tonale Musik vor allem in ihren epigonalen Formen, 'das postromantische Irgendetwas' […]. Die fremde Welt der 'geräuschhaften Musik' zog ihn an, die Klangeffekte, die 'zweite Avantgarde'. […]
Er erklärt, wie wir durch 'heruntergekommene' Musik in Werbung und Film sozialisiert, ja deformiert werden: 'Man hämmert uns ein, so hat Musik zu sein!' Er dagegen definiert Musik als akustische Kunst, als die kunstvolle, durchaus strukturierte Verarbeitung klingenden Materials. 'Mich lässt die Postromantik völlig kalt.' […] Ansgar Beste hat sich fest vorgenommen, keine Kompromisse einzugehen.
Damit das Kunstwerk reproduzierbar wird, erfordert es eine eigene, am Computer minutiös ausgetüftelte Notation, 'mein Steckenpferd'. Denn die erzeugten Klänge sind keinesfalls beliebig und aleatorisch: Der Partitur […] ist erst einmal eine genaue Beschreibung der Präparation vorangestellt mit einer Erklärung des Notationssystems."