About "Dialogues Tremblants"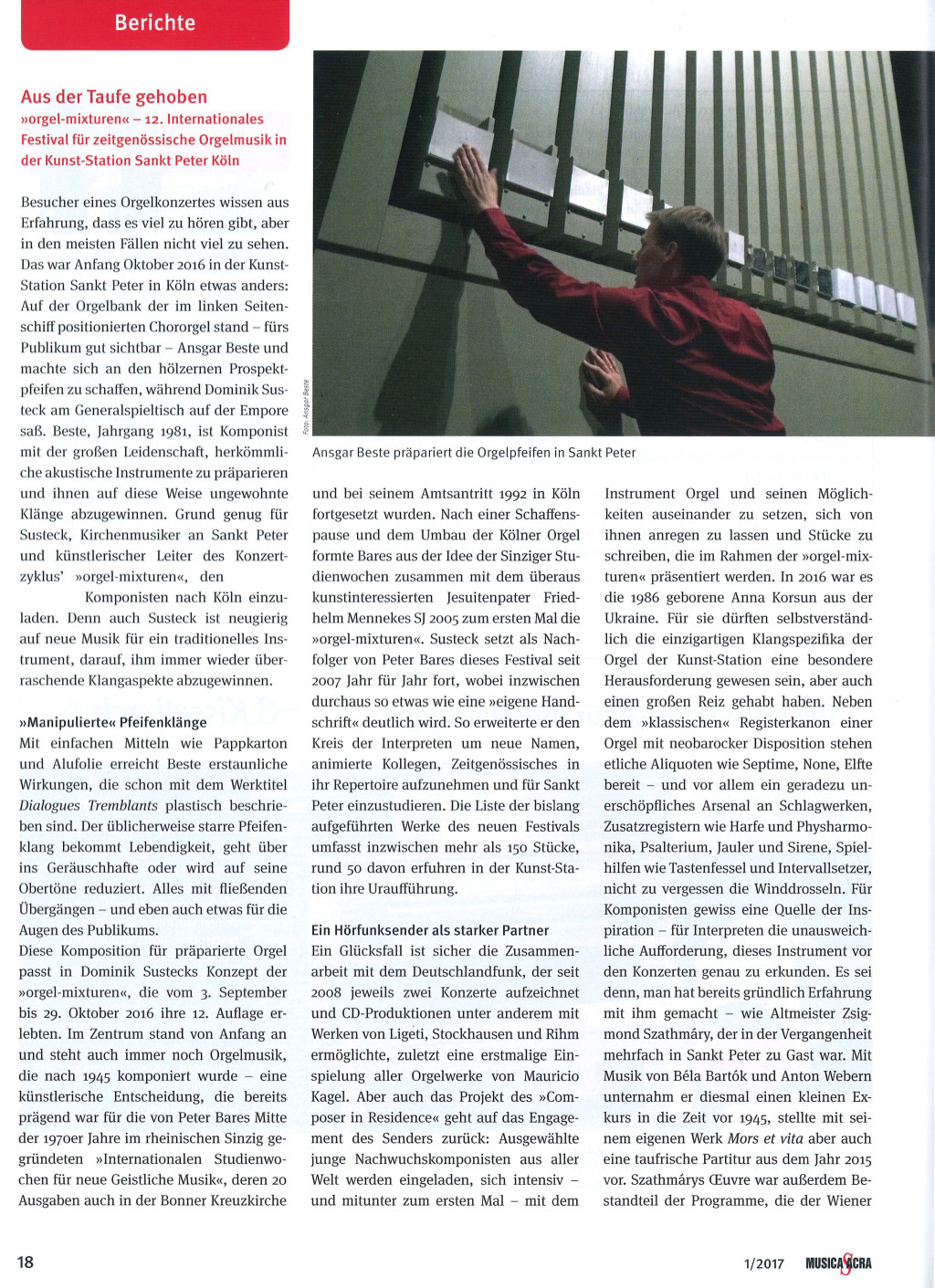 "Visitors of an organ concert know from experience that there is a lot to hear, but in most cases not much to see. This was somewhat different at the beginning of October 2016 at the Saint Peter Art Centre in Cologne: Ansgar Beste was standing on the organ bench of the […] choir organ – clearly visible for the audience – and tampering with the wooden organ case pipes, while Dominik Susteck was sitting at the general console on the gallery.
Beste […] is a composer with the strong passion of preparing conventional acoustic instruments and thus getting unusual sounds out of them. Reason enough for Susteck, church musician at Saint Peter and artistic director of the concert cycle 'orgel-mixturen', to invite the […] composer to Cologne. Since also Susteck is curious about new music for a traditional instrument, about, again and again, getting surprising sound aspects out of it.
'Manipulated' organ pipe sounds
By simple means like cardboard and aluminium foil, Beste achieves amazing effects, plastically described already by the work title Dialogues Tremblants. The usually rigid organ pipe sound gains agility, merges into noisiness or is reduced to its overtones. All with smooth transitions – and, as mentioned, also something for the eyes of the audience."
(Translation by Ansgar Beste)
"Besucher eines Orgelkonzertes wissen aus Erfahrung, dass es viel zu hören gibt, aber in den meisten Fällen nicht viel zu sehen. Das war Anfang Oktober 2016 in der Kunst-Station Sankt Peter in Köln etwas anders: Auf der Orgelbank der […] Chororgel stand – fürs Publikum gut sichtbar – Ansgar Beste und machte sich an den hölzernen Prospektpfeifen zu schaffen, während Dominik Susteck am Generalspieltisch auf der Empore saß.
Beste […] ist Komponist mit der großen Leidenschaft, herkömmliche akustische Instrumente zu präparieren und ihnen auf diese Weise ungewohnte Klänge abzugewinnen. Grund genug für Susteck, Kirchenmusiker an Sankt Peter und künstlerischer Leiter des Konzertzyklus' 'orgel-mixturen', den […] Komponisten nach Köln einzuladen. Denn auch Susteck ist neugierig auf neue Musik für ein traditionelles Instrument, darauf, ihm immer wieder überraschende Klangaspekte abzugewinnen.
'Manipulierte' Pfeifenklänge
Mit einfachen Mitteln wie Pappkarton und Alufolie erreicht Beste erstaunliche Wirkungen, die schon mit dem Werktitel Dialogues Tremblants plastisch beschrieben sind. Der üblicherweise starre Pfeifenklang bekommt Lebendigkeit, geht über ins Geräuschhafte oder wird auf seine Obertöne reduziert. Alles mit fließenden Übergängen – und eben auch etwas für die Augen des Publikums."